Panel Discussions Scheduled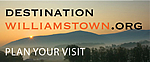 12-College Exchange Program: One will be a panel discussion on the 12-college exchange program, which began our junior year, and will feature a few members of our class who participated in the inaugural program plus Nancy McIntyre, the first dean of women.
Academic Programs Since 1970: Another will be a discussion of selected academic programs at Williams which were not present when we attended (or, like Winter Study, were in their early days).
Art Market: '.Tour of Williams Museum of Art: We also will have a special lecture on the art market and what to pay for paintings combined with a tour of the Williams College Museum of Art. Lastly, we will have a guided tour of the Clark Art Museum.
50th Reunion Speaker. Our classmate, Charley Ebinger, will be 50th Reunion speaker at an all-college event. Charley is the former Director of Energy and the Environment at the Brookings Institute.
Remembrance Service: Finally, we will hold a short Remembrance service on Sunday morning before brunch to honor classmates who have passed away. Rev. Chris Bryan will lead that service.

Cost and Other Information: The College substantially subsidizes the total cost of the event. Additional information on costs and other items will be available and added to this web site as we get closer to the event, so please check back to this page periodically. We will also send email blasts with details, and simultaneously update this page.
Reunion Costs:

You Won't Pay for My Drinks!

Reunion costs will include:
Registration fees covering dorm accommodations if you reserve a Williams dorm room, meals, special 50th Class parade attire and special events (e.g., DJ who will spin tunes from our era. );

Separate hotel costs if you plan to make separate accommodations. (See "Accommodations" below);

Transportation costs to and from Williamstown. (You'll make your own arrangements re transportation)
Based on your feedback and concerns, and thanks to the generosity of several classmates, all alcoholic beverages at our 50th reunion will be privately funded.
In other words, none of the reunion fees paid by you to cover our reunion costs will go towards alcohol.
Spouse and Partner Outreach Committee

We also have established a Spouse and Partner Outreach Committee involving Kathy McCurdy (kathleenmccurdy@hotmail.com) and Helen Moriyama (hmoriyama@comcast.net).
The purpose of this committee is to welcome and include spouses and partners in our reunion. To that end, we will be surveying spouses and partners in early December about activities and events that would be of particular interest to this important group. As always, we want our reunion to be inclusive and family friendly.
50th Reunion Organization: Here is a contact list of all those involved in the Reunion organization. Frequent contacts are:
50th Reunion Chair: Halley Moriyama – HalleyMoriyama@gmail.com
Attending Reunion – Planning and Commitment List – Don Berens – 50peaks@nycap.rr.com. If you plan to attend the 50th reunion, please let Don Berens know as he is keeping a tally for planning purposes.
Reunion Web Site WebMaster – Ray Kimball – raymond.kimball@yahoo.com
Please contact anyone on the contact list if you have any questions concerning the reunion or any reunion-related event. Also, if you would like to help in planning and organizing the reunion, please contact the appropriate committee chair, or
Reunion planning began right after our 45th Reunion. There will be many events taking place as a run up to our 50th Reunion, including the Presidential Forum in 2018 and the Williams in Oxford trip in 2019. As details unfold, they will be announced on the Upcoming Events page and also in the Reunion Details page. If you have any questions about the reunion or wish to help in the reunion planning, please contact Halley Moriyama, 50th Reunion Chair at halleymoriyama@gmail.com.
Learn below about the details of our 50th reunion, and see our News and Events page for planned events running up to the reunion.
Let Us Know You'll Be Attending 50th Reunion. If you've already decided to attend the 50th reunion, please let Don Berens know (50peaks@nycap.rr.com) as he is keeping a tally for planning purposes. Of course, formal registration will occur closer to the event when the College and Lou Buck send out the Reunion registration form(s), details TBA probably in 2019.
Reunion Suggestions? Requests? Contact HalleyMoriyama@gmail.com or see this website's Forum Section where you can make suggestions and communicate with the various planning committees.

Why Attend? Well, We Did a Survey

Here are 50th Reunion testimonials from members of '68 and '69 who attended a reunion for the first time at their 50th. They thought the experience was really worthwhile, and heartily recommend you attend. Please read their testimonials.
Also, the Class of '67 took post-reunion survey of attendees immediately following their reunion of 130 classmates plus about 170 spouses, "significant others," and friends.
There seem to be two primary reasons to attend the 50th reunion:
Reconnect with classmates you know;

Reconnect with classmates you don't know well but might like to see again.
There are other reasons, too –
reconnecting with the College,

visiting Williamstown, Mass., Vermont, New Hampshire, and/or Boston with your spouse or significant other on a nice June weekend in the Berkshires.
Reconnecting with classmates you know and want to see are the two most important reasons alumni come to reunions.
In response, our Class has created a special "Reconnect By…" section, making it easier to find and interact with your classmates again.