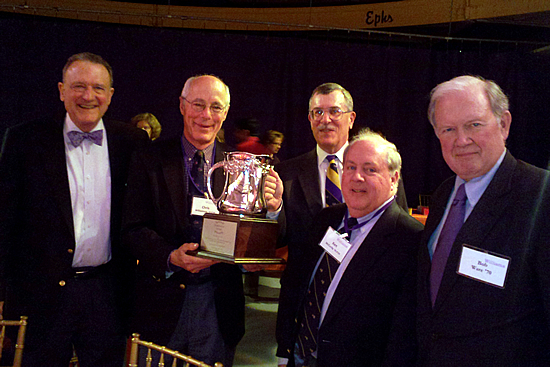 Consistent 80% Giving Marks the Leadership of our Agents and the Loyalty of the Class.

An astounding but not surprising eighty-three percent (83%) of the Class of 1970 contributed to the 2017-'18 Alumni Fund Campaign, winning two outstanding trophies for the class.
The Class has been giving at above the 80% level consistently for the last eighteen years since 2001.
This year the Class of '70 won the:
Meredith Wood '16 Trophy: Awarded since 1896

To the class in the youngest 50 with the highest participation rate.
Kelly – Sammons Trophy
Special trophy between the Classes of '65 and '70 established two years ago. Formula for participation, dollar amount. To honor outstanding Class Agents of the Classes of '65 and '70.
The Class of '70 has been giving at above the 80% level for many years now.
That means that 80% of you consistently have such good memories about Williams that you're willing to contribute to the College's annual fund at the highest levels, year after year. It suggests two other things, too:
The Class of '70 is an outstanding class, with good people all over the country and world in many walks of life;
Eighty three percent (83%) of you are coming to reunion!
Think of it! We old sods had a higher participation level than all younger classes!
The Class of '65 was the closest competitor, coming in right around 80%. That's a tad fewer than 9 givers making the difference for us.
We had 37 donors in the last 10 days of the campaign. That's 12.8% of our class.
Our thanks go out to every donor – but especially this year to those of you who were so considerate in responding to our late requests. You make a great difference!
We'll celebrate (hopefully) the hard work and achievements of all our Class Agents and Associate Agents: Lead Class Agents have been:
Tim Dorman
Larry Hollar
Ray Kimball
Dr. Bill Sammons!
Paul Miller
Kevin Austin
Chris Williamson