Pass the Baton Dinner – September, 21, 2019: Williams' 50th Reunion program sponsored an elegant, "purple tie only" reception and dinner for the Classes of 1969 and '70 in the Faculty Club to "Pass the Baton" from one 50th Reunion class to another.
Started by the Class of 1907 in 1957, each 50th Reunion class passes a silver-plated, engraved baton onto the next 50th Reunion class. The "passing" class, naturally, claims prescience, experience, responsibility, and superiority in handling its reunion, and exhorts the Class of '70 with words of "wonder and awe."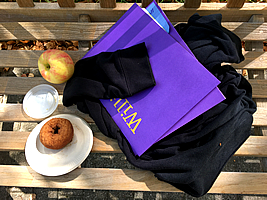 The Class of '70 leadership, in turn (Lou Buck, Halley Moriyama, John Burns, and Go-to Guy Gates Hawn) remarked that we already have a greater committed turnout to the 50th next June (true). Further, '70 vowed to raise more money for the College. Phrases like "low bar," and "wait and see" then were shouted about.
Elvis, however, brought the event to a shocked stand-still. Ray and Rosemary Kimball, '70, immediately saw the handiwork of their close friend and current Class of '68 President, Bob Heiss, Brooks House. Bob Heiss has said that "given the current political context, he is unable either to 'confirm or deny' his involvement." So, apparently we have this "surprise Elvis" to pass on also. Please don't tell the Class of '71!
Slide Show