1970 50th Reunion June 11-14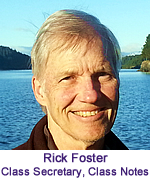 Rick Foster, 379 Dexter St., Denver, CO 80220; [email protected]
As our 50th draws ever closer, we've all had news of the recent deaths of three classmates. In case you hadn't heard, Debbie Strauss (B.A. Wheaton), originally from Alabama, died on May 9, 2019, Jules Vinnedge originally from Toledo, Ohio died in Florida on August 7, 2019, Jim Hewitt, born in Niagara Falls, NY, died on August 27, 2019, in Buffalo, NY.
In June, just after submitting my last class notes to the college, I heard from Jim Miller. He sent me a nice write-up on him in the Columbia College (Columbia Mo.) Alumni Magazine. Jim is an adjunct instructor of criminal justice at the College's Crystal Lake and Elgin, Illinois campus, where he teaches classes in criminal law, criminal procedure, the judicial process, evidence, legal issues, organized crime, business law and terrorism. In May 2019, he gave the commencement Address at the College. His teaching is in addition to maintaining a private practice.
Jennifer Wolcott wrote in July, "Dan (my husband Dan Heinrichs) and I continue to move around as much as we can, although his mobility has deteriorated substantially. In fact, he's scheduled for neck surgery—stenosis—at the end of July to take care of one of the problems. However, we still live 60% of our time in the wilds of Panama, about 30 km to the west of the canal, and the rest we are in Vancouver, Washington reminding people that this is the original Vancouver. We did the Mediterranean cruise in April from Barcelona to Rome, driving about in Portugal, and we're planning on the Williams trip to Egypt in March 2020—anyone else from the class going? Lastly, I am organizing and leading a Clan Morrison (my grandmother) return to the old home trip after our reunion for some 100 putative cousins to the Isle of Lewis—that's the tip top of the Outer Hebrides. No such thing as a quiet retirement. Otherwise, not much to complain about. About two years ago we found an ugly looking glioma in my left brain, inoperable, but after two years of monitoring, it doesn't seem to want to expand much. With luck I'll thumb my nose at it when I have my 100th birthday. My mother—ever a Williams fan, as her father Charles Ely was class of 1914—is about to celebrate her 96th birthday. When not dealing with all the other things in life, I continue to dig into the early history of western Massachusetts as part of writing a detailed story of the family's genealogy. Some of that has yielded great stories of early Williams—Ephram included. Our hometown is Westfield, MA, and for a long period when Williams was seeking to relocate in the early 1800's Westfield was a favored location. At the time, Westfield had a larger population than Springfield, Northampton, etc., and was the budding home of the Westfield Academy. Williams stayed put, the dissidents decided on Amherst, and the rest is as they say history. Actually, all of it is… I'm only buying things in Williams purple to be sure that I have plenty to wear for the reunion…
Dick Cooch has finally had enough of judging others. He wrote: "After 27+ years on the Delaware Superior Court, I have announced my retirement as of January 1, 2020. I'll really figure out retirement when I get there but it will certainly include more travel. I've truly enjoyed my years on the bench. Also, earlier this year, the State of Delaware acquired our property at Cooch's Bridge after 273 years of family ownership for use as an historical interpretive site to commemorate Delaware's only Revolutionary War battle. If interested, google "Battle of Cooch's Bridge" and "read all about it!" Bill Lawson had another great summer on Lake Charlevoix in northern Michigan. "We boated to Suttons baby, Harbor Springs, Bay harbor and to the towns and restaurants on Lake Charlevoix. In October we are off to the Blue Ridge Mountains, Asheville, Cashiers and Highlands for a week with friends. In March we are off to Longboat Key for 2 weeks. And in May we are taking the Royal Scotsman Belmond Train for 7 days- something we have always wanted to do. My wife continues to manage her father's caregiving. He has advanced Alzheimer's. The goal is to have him live his complete life in his home but it is becoming more difficult. "Getting old isn't for sissies.' Can't believe it is coming up on 50 years and therefore 54 years since some of us ran the Ephraim Williams birthday run around the quad. Glad there were not cell phones in those days LOL,"
Rod McLeod wrote just before the deadline for these notes the following news and a challenge: "Naomi and I will be attending our 50th. Trying to find a purple cow patterned fabric to have a sport coat made for our 50th, but no luck so far. If any of our classmates have any ideas, please pass them on to me. Am passing on a challenge to our classmates. Drinks on me to whoever comes farther than us!" Fred Rhame is "looking forward to reunion next year. We live in San Antonio, where I am still practicing pediatrics– 45 years. I have four kids, the last is a senior high girl. She just visited Williams with her mom, I had to work! I am in good health, still playing tennis. We frequent Telluride, and love snow skiing and summer hikes. Occasional other trips, my wife ( a district court judge), and I sent our daughter to camp this spring and spent 2 very nice weeks in France, where we caught 3 women's world cup soccer matches. I still stay in touch with Jennifer Wolcott and look forward to reconnecting with Walter Earle." Carl Whitbeck sent this succinct update: "Sandra and I plan to attend the reunion; new grandson born 9\2\ Thomas Gifford Whitbeck/son of Corey Whitbeck ('05); 7 grandchildren now; last child (Charles) married 4/17/2019 in Eleuthra. Life is good."
Bill Courter wrote to say that he and his wife, Priscilla, are planning on being at our 50th. He's only been back to the campus twice in 50 years. Bill has been doing a lot of hiking in the National Cleveland Forest and said had this to say about it: "Mountain lions / bobcats / turkey vultures / rattlesnakes – no problem. But one steep slope? I slipped and injured my hip in April. I thought it was a torn muscle, but x-rays revealed a left hip arthritis, precipitated by my fall. The hip jumped from asymptomatic to very symptomatic. No walking. No hiking. I tried insurance based physical therapy for about a month with no results. Heat / ultrasound / electric / manual manipulation / etc – no real benefit. So, I switched to an alternative non-insurance approach with a specialist who works with many pro athletes. Surprisingly, not one of his exercises matched the insurance-based exercises. He is opposed to hip replacement / knee replacement; and he believes in rebuilding your inner core muscles. Once a week I go to his gym for a new different regimen of physical therapy exercises; and for the rest of the week I do those exercises at home – every day for 60-90 minutes. After 10 sessions I am improving. But one other point? My walking buddy, my neighbor, texted me over this past weekend, asking if I were available. I texted back, explaining that I was not yet able to hike the mountain trails. He responded: he just wanted to see if I could pick him up at one of the trail exits because he felt "done" and abruptly tired. When I picked him up and examined him, he was in A-fib, so I had to take him to the hospital. He stayed one night; and they stabilized him on some new meds." Bill's reminder to all: "you can lose your health in an instant … a wrong step … too many steps in glaring heat."
Before closing, I will pass on the following exhortation from Paul Miller: "I wanted to urge everyone to make two gifts this academic year- one to our Class fund and the other the usual Alumni Fund contribution. And if you make a 5 year pledge for each, all of it will count in the total gift from the great Class of 1970!"
And now this: The third week of June 2019, found thirteen members of the Class of 1970 (along with spouses/significant others in most cases) joined together in an adventure in Oxford, England. We made the historic Randolph Hotel our headquarters and enjoyed morning talks on such topics as the "Williams Exeter Programme at Oxford, " "The English Civil War," "18th Century Women of Letters," and "The Paradox of Winston Churchill. These were followed by daily tours of Oxford Colleges and their private gardens, bus trips to Blenheim Castle (where Winston Churchill was born), the Cotswolds, and the City of Bath, where another classmate, Richard Wendorf, provided a tour and dinner at the American Museum for which he serves as the Museum's Director. Earlier in the day, upon our arrival in Bath, Richard arranged a coffee and pastries at the home of a friend in one of the wonderful residences that constitutes part of the famed Royal Crescent, that excellent example of Georgian architecture constructed in 1774. Those in attendance were Chip Baker and Sally Stoops, Mary and Bob Bearman, Maureen Farley and Don Berens, Usha and John Burns, Judy and John Cornwall, Fred Eames, Put and Charley Ebinger, Ken McCurdy, Andrea and Jim Rubenstein, Ann McLaughlin and Bill Wadt, Pacey White and Jon Silver, Peggy and Chris Williamson, and Julie Waggener and Rick Foster. We all had a wonderful time, thanks in large part to Mark Robertson '02 and Kate Hyde '96 who, ever cheerful (at least in front of all of us), herded and guided us to our various destinations and ensured that we were mostly on time for each walk, lecture, and bus ride, and most important, for every meal. We were all so grateful that we sang in chorus "The Mountains" at our last dinner with changed lyrics reflecting our Oxford experience. Still within my word limit for these Notes (more or less), I take the liberty of repeating here the entire ditty, in part as a challenge to the Class of 1971 who will be given the Oxford opportunity next year:
Verse
Oh proudly came our class of nineteen se-ven-ty
To College Exeter and Oxford Dons.
We loved the rain and hills of dear old Oxfordshire
And praised our hosts for lovely British johns.
Refrain
At Williams, in Oxford, the Randolph was our home
Took Tou-rs, heard lectures, amongst the garden gnomes.
The students, and Hist-ry of England we did find.
And even saw where Harry Potter Dined!
Verse
Amid the walls of Broughton did we hear the lines
Of "hist-ry" from the fourteenth cent-u-ry.
Our tour guide Noble, great, and good Lord Martin Fiennes
He told us 'bout his family at "high" Tea.
Refrain
Blenhei-em, then Worcester, Christ Church Rich Wendorf too
From Cotswolds to Ba-th our minds went all askew.
Thank Heaven, for planners, they saved our butts once more
Thanks Mark and Kate for Taking on that Chore.
Refrain
Oh Oxford, oh Oxford, we greet you with this song.
Though aging, our voices still seem to be quite strong.
And with them, we offer, our praise to Mark and Kate
They worked so hard –kept us from be-ing late.
If I left anyone who wrote out of these notes, please let me know. My apologies.
—————