Class Secretary
RICK FOSTER
379 DEXTER ST.
DENVER, CO 80220
[email protected]
Thanks to all for responding to my woefully late request for news only two weeks before the submittal deadline. My additional plea for news other than about vacations and the topical question "did you like beer in college" brought the quickest replies.
David Coplan was first out of the box with this: "Hi Rick, no sweat. I never drank beer at Williams, just smoked dope like all the superior, hip types of the era. Besides, sex was better on weed than on beer, and yes I do remember. I am retired and not regretting it one bit, as I was not my job, don't care for work that much anyway, and am now free to do whatever the hell I want unless my wife doesn't like it. Meantime am being dragged back across the Atlantic to speak at Princeton and Michigan State this month; Have nothing left to say, so shall settle for shock and awe. Still working on my writing under the banner of less is more. These are the days, my friend."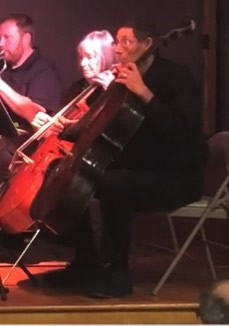 And from Andy Gero: "No news is good news, they say, and that's pretty much what I have. Planning my annual half marathon Oct. 20; it will be different in one big way – 700+ participants (so far) rather than the 50 or so in the one I did the last few years. I am tentatively planning on attending the 50th, but it's too early to say for sure. I didn't like beer while at Williams, or now, or any time in between. I did know the legal age in MA, and in NY, unlike (apparently) our Supreme Court nominee. Good health and happiness".
Bill Lawson also remembers what the liquor laws were 48 years ago and wrote: "I do recall some Williams students and their guests enjoying a few beers from time to time at the school at the parties that were held in the ex 'frat' houses, the mixers and the pre and post football game events. I believe the legal drinking age during our time at Williams was 20 and raised to 21 in 1984 to be in line with the federal law. Of course all of those that consumed the beers during our time as students on campus were over 20 years of age."
Bill Courter wrote: "Since you do NOT want travel information, I will skip our two Europe trips this summer – one for 27 days and one for 15 days. And I will not mention the fun of watching a Croatia world cup game from Dubrovnik bar! As for our 50th reunion, I am expecting to attend with my wife. She (and my two daughters) have seen Williams only once. All three had the same initial response: 'How could you say no to Stanford and attend a college so isolated?' But I am certain my wife will love Williams when she is there for our reunion. Retirement? My only regret? I should have retired 5 years earlier! I am one of those people who absolutely love retirement!" (I just came back from a Tuesday lunch with just my wife and myself – and glass of wine!). As for Williams and beer? Wow! I am SO glad we did not have Facebook or Instagram or any social media … my God, I would have a lot to explain! Still, there were some GREAT Saturday night house parties! Many good memories."
Rod McLeod and Naomi haven't been traveling much in 2018 while Naomi recovers from her second hip replacement, although they did get a week of spring skiing in Austria. Rod said his knees limited him to no more than three hours per day of skiing on that trip, but it "brought back memories of Brodie Mountain during freshman year and Morgan Middle West classmates learning how to ski together from John Black and Nick Ward." Rod also said that Israel had been captivated by the Kavanaugh Hearings and mused about how fortunate we all were to survive the political tumult of the 70s.
Richard Wendorf wrote to say, "I've been working on the Class of 1970 pre-reunion trip to Oxford (and Bath) next June. Should be great fun. I became a grandfather this past summer (against all odds) and will be a Visiting Fellow at Exeter College, Oxford for the winter term this coming January and February."
Rob Durkee reported this "bad-to-good" news: "Old Rob survived a Lyme disease affliction in 2017 – 2018 interrupting soccer coaching responsibilities at a local day school here in Pawling, NY. Joyful plans for December nuptials — and honeymoon — have inspired a return to "the beautiful game" this fall. Medical professionals have observed that Coach Rob, again, "prowls about the futbol pitch with the grace and guile of a teenage panther, albeit with significantly muted velocity."
Ken McCurdy wrote in early October about having just heard a talk at University of Rochester Medical Center by
Phil Greenland who received the Distinguished Alumni Award. Per Ken, "Phil is now at Northwestern, but was in Rochester for Med School, Residency, and as a Faculty member. His talk was wonderful and described his career and research in cardiology and how he contributed to the development of preventive cardiology which is benefiting all of us in 1970! This was a big day for him as his fifteenth grandchild was born this morning in Chicago where all of his kids and grandchildren live."
Jim Slade wrote of how he celebrated reaching age 70: "I decided to backpack the 176-mile Tahoe Rim Trail, which circumnavigates the mountains surrounding Lake Tahoe. The 13-day hike was spectacular, and well worth it. I was grateful to feel up to it physically, and thankful to complete it. My wife Barbara continues her great work as president of her non-profit (betweenhorsesandhumans.com), which helps children with emotional and behavioral problems. She was selected as a "Remarkable Woman" of our county this year. Needless to say, I'm very proud of her and her work. We have traveled to Vietnam and Colombia in recent years, and are looking forward to a trip to Namibia next spring. We also plan to be at our 50th. See you there!"
Don Berens, among others is working hard on our 50th Reunion and tells me that, as of the end of September, we've had 95 classmates plus five exchange women tell us that they plan to attend the fiftieth reunion (June 10-14, 2020), making a total of 100 such affirmative responses with over 20 months to go. Monthly updates are posted on the class website.
A number of classmates attended the September Presidential Forum for the Class of 1970 and .and the fall mini-reunion for the classes of 1968 to 1972 in Williamstown. Among them were
Halley & Helen Moriyama, Bill & Eugenia Hamilton, Bob Bearman, John Cornwall, Professor Ray Kimball, Ken McCurdy, Paul Miller & Lea Perez, Bill Wadt, Chris & Peggy Williamson, Jeff Geller, Bob & Jennifer Katt, Ted May, Whit & Downey Knapp, Joe & Kathy McCurdy, Don Berens, Gates Hawn, Tom Crowley, Chip Baker & Sally Stoops, John & Usha Burns, Bob Ware, Brook & Mary Ann Brennan Newcomb, and Peter Thorp.
I don't have sufficient space to cover all the information sent about the weekend, so I'll just provide some snippets. Some of those attending sent reports about what the others had been up to and about the event itself. Paul Miller said that this was Peter Thorp's first time in Williamstown in 18 years. Lou Buck explained why by noting that Peter recently had returned to the states following a long hiatus in Rwanda where, a decade ago, he had established the Gashora Girls Academy of Science & Technology. Lou Buck's description of some of the events included this: "Two timely and highly beneficial faculty/student panel discussions were conducted on the topics of free speech on campus and the future of liberal arts. On the latter topic, classmate Tom Crowley delivered an exceptionally well researched and thought provoking presentation on the disruption caused by the rapid acceleration of technological innovation and the inability of higher education to adapt as quickly in order to keep pace."
After noting that Jeff Geller has done some interesting things in psychiatry in Massachusetts Don Berens reported learning at the forum and mini-reunion that: "(1) 18% of current Williams students are the first in their families to attend college; (2) over half of current Williams students who have declared a major have a major in at least one of the sciences (defined to including math and psychology); (3) there are 75 computer science majors; and (4) new President Maud Mandel has commissioned a strategic planning review of all college programs." On a more personal note, Don also reported that, in September, he visited five US National Parks from Isle Royale in Michigan to Glacier in Montana, bringing his total to 44 out of 59. His daughter, Kate delivered a boy, Daniel John Bucki, on September 23, bringing his total grandchildren to three.
Chip Baker, Halley Moriyama, and Lou Buck each commented about how impressed they were with Williams 18th President, Maud Mandel. Halley Moriyama, described the overall event as follows: "The talks focused on college finances, the composition of the student body and faculty, the winter study program, tutorials, career counseling and summer jobs, free speech, and curricular innovation. Many of these topics dovetailed with the gift purposes associated with our 50th Reunion Gift. These were candid discussions and the college's transparency was greatly appreciated. Many of our sessions involved current students, including students sitting with us at the lunches. "Wow" would not adequately described them. They were articulate, poised, and friendly. These were two-way conversations, as the students were just as interested in us as we were in them." Halley also reminds us that our next 50th reunion-related event will be the Williams in Oxford trip, which will take place June 17-24, 2019.
In a lame and shameless effort to have the highest number of bolded names of any single submission of Class Notes, I'll end with these comments from Lou Buck about the multi-class aspect of the Mini Reunion Weekend: "In addition to connecting with classmates from the great Class of '70, it was a treat to see friends from the Class of '71including Steve & Sue Brown, Hugh Hawkins, John & Mary Untereker, Jack Sands, and former baseball teammates Tim Murnane & Diana Michaels, Steve Latham, Bob Schwed and Nick & Ann Tortorello. It was also great this year to have members of the Class of '72 in attendance. After almost 48 years, I enjoyed seeing again and spending some time with, Wendy Hopkins, John LaPann, Cas Groblewski and Terry Smith. Terry attended his 45th reunion and has visited the campus periodically since graduating. However, this year's Mini Reunion Weekend was his first. Terry summarized his experience with the following observation he had offered in an email exchange:
My 45th reunion was my first, but I enjoyed myself so much that I have vowed to return for reunion activities every chance I get!  I had been back to Williamstown many times over the years, but never for an official gathering – just rolled into town, wandered around, and took in the beautiful scenery. The 45th reunion weekend put me back in touch with several classmates I really had fun with while in school. The annual mini-reunions leading up to the 50th put you back in touch with good friends from earlier/later classes…"
Capping off a beautiful autumn weekend in the Berkshire's, many of us watched the stunning, long time coming football victory over Trinity and that evening enjoyed a delightful Class of '70 dinner at Mezze!"