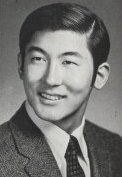 Lawrence Hiroshi Kono (June 12, 1979)
Please note: Sunday Morning, June 14, 2020 Remembrance Service at 50th Reunion.
We will honor departed members of the Class of 1970 at a Remembrance Service on Sunday morning, June 14, 2020, during our 50th Reunion. The service will be led by led by our classmate Rev. Chris Bryan. We hope you will plan to attend.
Larry passed away at the age of 31 in Cradock, South Africa while traveling on a Rotary International group study exchange program. Born in Hilo, HI, Larry graduated from the Hawaii Preparatory Academy, Williams College, and the Harvard Graduate School of Business. He was an English Literature major at Williams.
He was the President and owner of HITCO Moving & Storage Service Company, a Hilo transportation concern. Larry was active in many community activities, including the YMCA, the Big Island Hospital Foundation, and the Hilo Hospital. In 1972, he was the Hilo Jaycees Outstanding Young Man and received its Silver Key award. He served as a past director and vice president of the American Cancer Society and a past director of the Hawaii Humane Society. Larry was an active jogger and sportsman, competing for two years in the Hawaiian canoe race. (Hawaii Tribune-Herald, June 18, 1979)