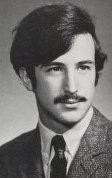 Paul J. Gutman (September 25, 1990)
Please note: Sunday Morning, June 14, 2020 Remembrance Service at 50th Reunion.
We will honor departed members of the Class of 1970 at a Remembrance Service on Sunday morning, June 14, 2020, during our 50th Reunion. The service will be led by led by our classmate Rev. Chris Bryan. We hope you will plan to attend.
Paul J. Gutman, 42, secretary/treasurer of Pressman-Gutman Inc., a textile converter, died when a twin-engine Cessna 421 airplane owned by Texfi Industries, Inc., crashed during a takeoff at Jefferson Airport in Commerce, GA. Paul was on his way from Texfi's Jefferson plant to the Greenwood/Spartanburg airport in order to make connections with a commercial flight to New York City. All three people on board, — the pilot, co-pilot and Gutman — died in the crash.
Paul was a member of B'nai B'rith of Westfield, NJ, the Men's Club of Temple Emanu-El and was the national chairman of the March of the Living. In 1985 and 1989, Paul participated in the Maccabee Games and received two bronze medals in baseball.
Born in Philadelphia, Paul graduated from Germantown Friends and later Williams College where he was an American Civilization major. Following graduation from Williams, he lived in Israel for nine years, and then Princeton before moving to Westfield, NJ. He was survived by his wife, Sharon, and a son and daughter. Paul's parents established the Paul J. Gutman Library at the Philadelphia College of Textiles and Science campus in 1993 in memory of their son. (Jewish Star, November 23, 1990 and the Jewish Exponent, January 15, 1993)