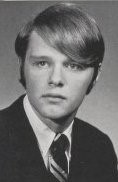 John Charles Groth-Juncker (January 30, 2015)
Please note: Sunday Morning, June 14, 2020, Remembrance Service at 50th Reunion.
We will honor departed members of the Class of 1970 at a Remembrance Service on Sunday morning, June 14, 2020, during our 50th Reunion. The service will be led by led by our classmate Rev. Chris Bryan. We hope you will plan to attend.
Following a brief illness and surrounded by his family, John passed away at the age of 67 in Pittsford, NY. He was predeceased by his beloved wife of 34 years, Annemarie Groth-Juncker. John was survived by brothers, David of Victor, NY and Robert of Upton, MA; sister-in-law, Susan (David) Groth; cousins, Joan (Robert) Bzdick and Jane (Timothy) Kinsella; nephews, Matthew Groth and Andrew Groth; nieces, Debra Werzinger and Amy Doan. John is a graduate of Benjamin Franklin High School and Williams College where he was a political science major. John was a creative and successful financial investor. He was in the process of writing a book dealing with grief based on his life experiences at the time of his death. John's friends will sincerely miss him. (Rochester Democrat and Chronicle, February 15, 2015)