Hopkins Hall Occupation, April, 5-8, 1969
At 4:30 a.m. on April 5, 1969, Williams Afro-American Society, led by Preston Washington, '70, occupied Hopkins Hall following a breakdown in discussions with the Administration on residential housing the previous day. For contemporary accounts,
See the Williams Record's contemporary report 1969 on the protest. Hopkins_Occupation19690405-8
A year later Williams Record reported on the occupation's aftermath, including an interview with Preston Washington, '70. See Williams Record, Vol. 83, p. 187.
Preston Washington, '70, went on to a distinguished career in leadership and community service, including a trusteeship at the College. See Preston Washington.
The Hopkins Occupation in April, 1969, was the first major protest at Williams. It preceded the War Moratorium protests (Fall, 1969) and the Cambodian bombing protests of May, 1970, which shut down the school just before finals.
Martin Luther King had been assassinated exactly one year before, on April 4, 1968.
The Williams Record pamphlet was sent to alumni, parents, and college friends. Jim Rubenstein, Chair, 1969 Record, and Larry Hollar '70, Executive Editor, helped edit the pamphlet.
Here is an excerpt from the Record pamphlet, outlining the agreement reached: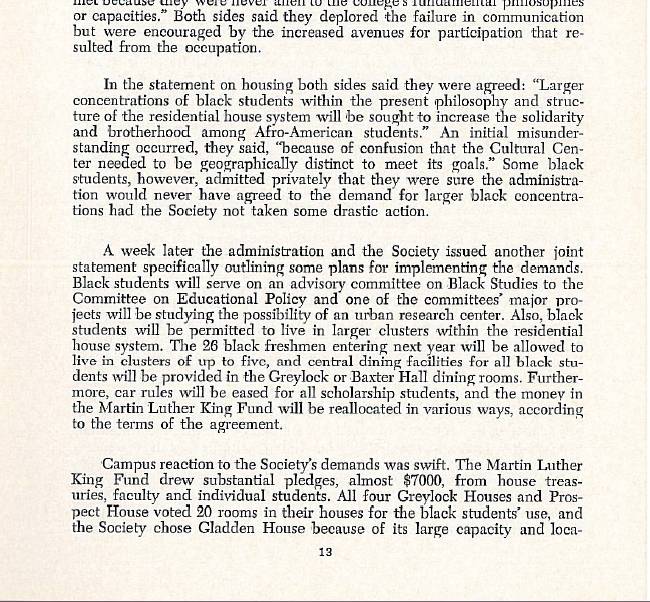 African Americans represented only 3.4% of the College in the Class of 1970, and 11% of the Class of 2017. Compare the Classes of 1970 and 2017. Feelings of isolationism and tokenism fueled the protests. The students' request to consolidate African-Americans in a single residential house was resisted by an administration which only recently had dismantled the fraternity system. The occupation led to a swift resolution of that housing issue.
The Record pamphlet provides a detailed window into "The Protest Years" and the changing life at Williams in the Spring of 1969.